Labor Day 2010 Part A
Day 1:
Morning along the upper end of Trail Creek
We always enjoy exploring new areas and this past Labor Day weekend was no exception. I wanted to head for higher elevation and away from the masses of people who frequent the 'popular' getaways so I spent some time on Google Earth searching for a spot to setup base camp. We wouldn't be able to depart Pocatello until Friday afternoon, limiting our drive to camp to 3-4 hrs. After developing a list of options, we settled on an area of Trail Creek outside of Sun Valley, ID and headed out by way of Mackay, ID and the Big Lost River on Trail Creek Road. I was surprised at the quality of Trail Creek Road, as we were able to maintain an average speed of 50mph!
We arrived at the upper end of Trail Creek, off of Forest Service Road 140, and found a spot to setup camp. We quickly setup the tent and headed to bed.
Day 2:
Saturday we awoke to frost on the ground, a beautiful sky, and wonderful scenery. My pre-trip scouting on Google Earth panned out and Krista was happy with the location. I setup the rest of camp and went to work starting a fire and cooking breakfast.
Our Campsite
The view looking down stream
Trai Creek
After breakfast, we headed out in the 4Runner for some exploring and fly fishing. I had fished the lower end of Trail Creek with my father when I was a child, so we headed down the mountain to the Sun Valley area. The trout were rising and I was able to take the opportunity to teach Krista how to fish a dry fly. After a couple of missed rises, she was able to land her first fish on a dry fly! I was glad to see she was enjoying the sport as much as I do!
Krista fishing on Trail Creek
After some more fishing, we headed back up to Trail Creek Summit with one quick stop for some pictures.
On our way in on Friday night, we noticed a road to Big Fall Creek Lake that headed North from Trail Creek Road and we decided to investigate and see if the lake was accessible by vehicle. The road is just West of the Phi Kappa Campground located along Trail Creek Road.
USGS map showing the road to Big Fall Creek Lake
The lower portion of the forest service road was mild but as soon as we began gaining elevation the route began to get more difficult. We came to a 'Y' in the road and first went left. We followed the road to about 8,700ft when it turned to shale and became very narrow. After looking up the road, from the vehicle as there wasn't enough room to get out, we decided to back down to the last hairpin turn and head the other direction.
View from the passenger seat as we backed down the road from our first attempt.
We then made it back to the 'Y' in the road and took the other leg. We quickly found this road to be washed out by Big Fall Creek. Although it probably was drivable, we decided to get out and hike up the road to see what we could find. Krista ended up finding a small cabin near the trail with our German Wirehaired Pointer. You can see the cabin, the small black square, on the map above. We then backed up to a place we could turn around, and headed back to camp.
Our second attempt trying to find the lake.
Google Earth view of our two attempts at reaching Big Fall Creek Lake.
Back at camp
The view of the mountains from camp
We all settled in for a cold night's sleep.
To Part B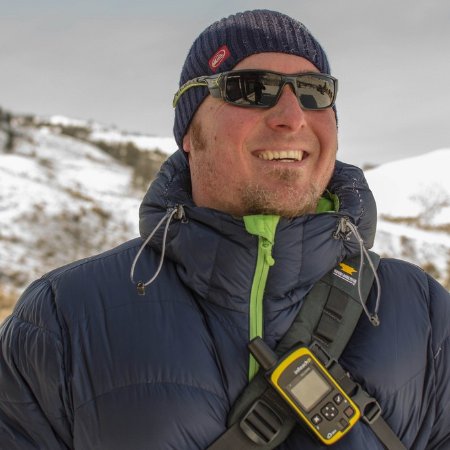 Beau Johnston
is an engineer, writer, and photographer who is dedicated to proving you can find a balance between work and life. He is the Co-Founder and Publisher of
Living Overland
and a member of the Rocky Mountain Automotive Press. When he isn't working, you can find him exploring National Parks, fly fishing, and camping with his wife (
Krista
) and their two dogs.
___________________________



If you found this article helpful, please consider using one of the affiliate links below. The price is the same for you, but a small percentage of the purchase price goes to us, which helps keep this site going. Thank you!