36-Hours | Exploring Casper's Pioneer History - Old and New
Very rarely do we get the opportunity to write about the community we have called home since late 2012, Casper, Wyoming. Like those pioneers who moved west along the Oregon Trail some 175 years ago, we moved east from Idaho in search of a better life. I had survived five layoffs in three years while working at the Idaho National Laboratory, and the toll my three-hour daily commute took out on us left us looking to uproot our lives. We said we could live anywhere for two years and took a chance on a community we had only visited during my interview. Nearly six years later, we have embraced Casper as home; loving all this community has to offer.
I was ecstatic, as you might imagine, when I was offered the opportunity to write about Casper as part of Oregon's Mt. Hood Territory's
175th Commemoration of the Oregon Trail
. Unlike our other travel articles where we are exploring some remote corner of the globe, this time we invited our good friend, Colter, to come down from Montana so we could show him around and the many offerings of and show him all Casper. It had been a while since we had last seen Colter, and the weekend's adventures proved to be a great way to catch up with each other's lives, beyond what we see on social media.
National Historic Trails Interpretive Center
Work and travel commitments meant we had to cram all our activities into 36-hrs, which is hardly enough time to get to know Casper. We didn't let this deter us, and promptly woke up Saturday morning and headed straight for the National Historic Trails Interpretive Center. Open since 2002, the Center is home to exhibits depicting the history of Native Americans, early explorers, and the migration of pioneers who followed the Oregon, Mormon, California, and Pony Express trails west to seek out a better life for their families.
The Historic Trails Center offers a beautiful view of Casper
The displays come to life, telling the story of the pioneer migration
We arrived at the Interpretive Center and were immediately greeted by Jason, one of the seasonal staff who help guide folks around the Interpretive Center. Jason was kind enough to walk us through the exhibits, providing commentary and detailed information on the many groups associated with the trail network. We learned about the cultural significance the area has to the Native American tribes, who tie their origin stories to the land. The Interpretive Center intertwines this narrative with the stories of those who came west in search of a better life.
All Trails lead to Casper - Jason shows us the routes of the major trails heading west
Krista and Colter ride the river crossing simulation
I couldn't help but visualize Krista and me, with our two dogs in tow, traveling in one of those wagon trains, hoping to get to Independence Rock before July 4th. The granite outcrop, north of the Ferris Mountains, was one of the landmarks associated with multiple trails heading west. The rule of thumb was that if you reached Independence Rock by July 4th, you had a strong chance of making it over the Rocky Mountains before the first snowfall of the season. You read that right, by July 4, pioneer families were already afraid of the approaching winter. I cannot blame them, I have lived my whole life in the Rocky Mountains, and wouldn't want to get caught in one of our snow storms while pulling a wagon or handcart. Some, like the Martin and Willie handcart companies, departed late in the spring and suffered greatly for it.
Living historians portray life on the frontier
Backwards Distilling Company
Before we knew it, our tour had come to an end, and it was time to head to our next appointment, a cocktail class. In contrast to the pioneers we learned about at the National Historic Trails Interpretive Center, the Pollock family, in a way, are modern pioneers, They set out to pioneer the production of craft distilled spirits in Wyoming, opening
Backwards Distilling Company
in 2014. Siblings Amber and Chad, along with their parents (Bill & Kathy) quit their jobs and poured their lives into what has become one of Casper's best-known brands.
Krista exploring the fun merchandise at the Backwards Distilling Co. Tasting Room
Walking into Backwards' tasting room is like stepping out of Casper and into some chic bar in Portland or San Francisco. You just can't help but feel life's stress melt away as you sit down at one of the dimly lit tables and listen to the beautiful music. We hadn't been there for more than a minute when Amber greeted the three of us and asked if we would like to take a tour of their distillery before we settled down for the class. I am not going to lie, I have been on Amber's distillery tour a few times now, and I geek out every time. This time I asked if she would share a little more about their company history as she talked about the distillation process.
Amber shared with us the struggles of the family endured even to get their idea off the ground. Although craft breweries existed in the surrounding area, the Pollocks had to work with local governments to rewrite zoning and ordinances so that the family could distill spirits. We learned about how the family worked tirelessly to develop the unique recipes for their Ringleader Vodka, Contortionist and Strongman Gins, and Sword Swallower Rum. They even went as far as to create two sister labels,
307 Vodka
and
Milk Can Moonshine
, both made with Wyoming-sourced corn and beet sugar, to compete with the well spirits served in mixed drinks at local bars.
Speaking of mixed drinks, it was time to head back into the tasting room to learn how to make two of Backwards' signature cocktails; the Can & Jam and Greatest Showman. We started by sampling each of the four Backwards products; Ringleader Vodka, Contortionist and Strongman Gins, and Sword Swallower Rum, as well as their 307 Vodka and a Honey Schnapps they collaborated on with
Big Lost Meadery
. The thing I love about Amber's classes is that she takes the time to talk about the spirit's flavor profile and how she works with ingredients to highlight these profiles to produce their amazing cocktails.
Amber was kind enough to allow us to share their Greatest Showman cocktail recipe with you. This is one of the best cocktails to enjoy on a summer evening.
Greatest Showman
½ oz lime juice
½ oz passion fruit syrup
¾ oz coconut cream
½ oz pineapple juice
1 ½ oz Strongman Gin
3 dashes Angostura Bitters
Stepping outside from the tasting room we realized it was approaching dinner time. We were hungry, having only snacked on some veggies and hummus between the National Historic Trails Interpretative Center and Backwards Distilling Company. Our final stop in our whirlwind tour of Casper would take us to Racca's Pizzeria Napoletana, where we enjoyed some of their amazing pizza on gluten-free pizza dough that they make in-house. As we sat, eating our pizza, we recounted the day's events and how our lives had, in a way, mirrored those of the original Oregon Trail pioneers. The three of us had all moved from the towns we were born or grew up in, setting out to find a better life.
Are you interested in visiting Casper, Wyoming? Check out
VisitCasper.com
for a list of all the great activities our community has to offer. Information on the exhibits at the National Historic Trails Interpretive Center can be found on the Bureau of Land Management website,
https://www.blm.gov/learn/interpretive-centers/national-historic-trails-interpretive-center
. Information about Backwards Distilling Company, including their distillery tours and tasting room classes can be found on their website,
www.backwardsdistilling.com
.
This post is sponsored by
Oregon's Mt. Hood Territory
, as part of their 175th Commemoration of the Oregon Trail. There are similar articles showcasing similar stops along the Oregon Trail, which ends at Oregon City, Oregon, so be sure to check them all out by clicking here:
https://ooh.li/3b3f8b6
. If you are interested in learning about other stops along the Oregon Trail, you'll want to check out these great blog posts
___________________________
Author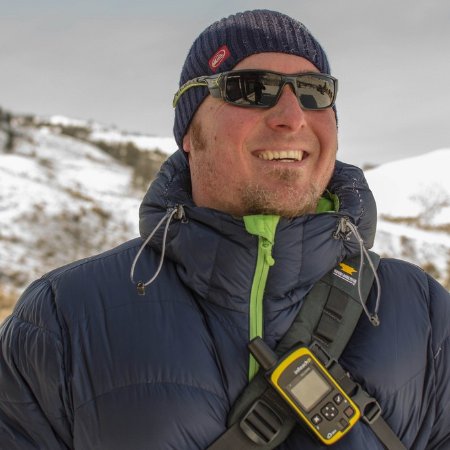 Beau Johnston
is an engineer, writer, and photographer who is dedicated to proving you can find a balance between work and life. He is the Co-Founder and Publisher of
Living Overland
, and when he isn't working, you can find him exploring National Parks, fly fishing, and camping with his wife (
Krista
) and their two dogs.
___________________________



If you found this article helpful, please consider using one of the affiliate links below. The price is the same for you, but a small percentage of the purchase price goes to us, which helps keep this site going. Thank you!